The Account totals report provides access to total accumulated listening sessions for content.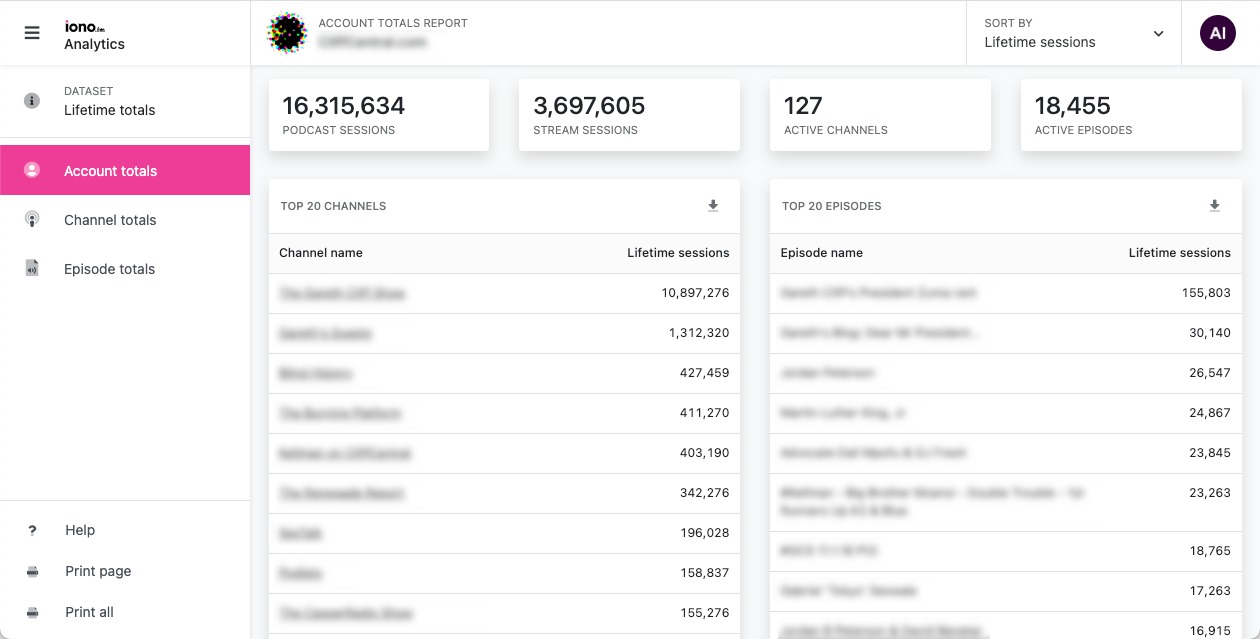 Using the report
Where the analytics dashboard provides an in-depth breakdown of content access patterns for selected periods of time, the Account totals report provides the total listens over all-time for channels, episodes and streams. This provides a view on what was the most popular content over all time and a reporting function that is not limited to a specific time period.
This report can be access via the admin panel on the provider page:

Report contents
Sorting
This report can be sorted by "Lifetime sessions" and "Date Created". The sort functionality applies to all content tables shown in the report.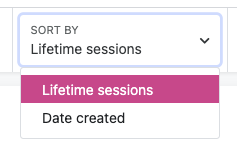 With "Lifetime sessions" selected (default), content tables lists the most popular content first.

With "Date Created", content tables shows the most recently published content first. This can be used to track performance of recently published episodes.
Panel / Account totals
The default panel, shows the key counters for the entire account and the "Top 20" episodes and channels.
Note: The "CSV Download" functionality for these two tables are also limited to 20 items.
Panel / Channel totals
Displays a list of channels and their aggregated lifetime sessions.
The "CSV Download" functionality for this table is limited to 500 items.
Panel / Episode totals
Displays a list of episodes and their lifetime sessions.
The "CSV Download" functionality for this table is limited to 500 items.
Print page / Print all
The print feature provides a layout that is less complex and better for printing the content to A4 Portrait sizes or PDF.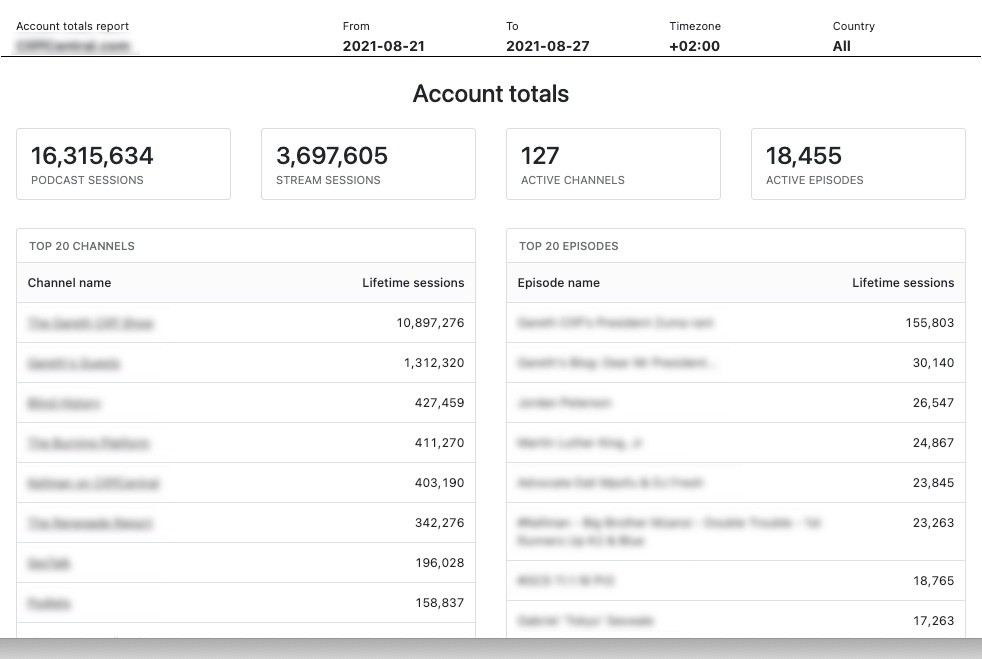 How "Lifetime sessions" are update
The counters displayed in this report for "Lifetime sessions" are updated continually by our platform as valid listening sessions are tracked by our analytics backend.
Only valid sessions (minimum 1 minute listening and other analytics rules applied) will increment this counter.
When is the data updated?
These counters are not updated in real-time. They are incremented by our analytics processing backend, which may occassionally lag may behind real-time.
The value of these counters may also exceed what is visible in the analytics dashboard as analytics reports are frequently cache for up to an hour. Analytics reports will eventually catch up to the session counter value displayed.
Is this the same as the "Listen" label on web pages
Publishers can see the number of "Listens" for each object when logged into our platform as admins. This is the same as the "Lifetime sessions" counter displayed in the Access totals report.

This provides an easy way to find out the total session count for a specific episode, stream or channel.
Notice for older content
For content published prior to 1 September 2021, this counter have been incremented by our old analytics platform. We have adjusted the counter values older than this date to be more in line with the new analytics measurements, but this is only an approximate adjustment. Unfortunately there is no way to be more accurate, but this should help establish a fair baseline when comparing older and newer content on their lifestime session counter.
---
What's Next