Usage reports (Legacy analytics)
---
Share feedback
Thanks for sharing your feedback!
Deprecation notice
Our content usage reports are being deprecated and only contains data up to 30 September 2021. See our new Analytics section for more details.
Our reporting functionality is available to all podcast and stream publishers on our platform. The level of reporting features available o content is based on the account package. Reports show how and where content is accessed. Publishers can use our online portal to generate content access reports for their podcasts and live-streams over any time range, with some easy defaults like "Today" and "Past Month".
On the "Admin panel", click on the "Full Report" button to see the detailed usage report:

Report header
Podcast reports track all podcast files accessed from our back-end. The header area of our reports allow segmenting to a certain date range:
The above example covers all the content of a provider, but users can drill-down into podcast channels or even specific episodes. In this case the header includes a breadcrumb area to allow easy navigation:
Podcast Overview section
This section highlights the key information for the reporting period: total podcast accessed (downloaded or played on the website or within an embedded player) as well as number of episodes published, both with a % growth indication.

Note on pagination & CSV downloads
Data tables on our reports list only the first 10 most relevant items, typically sorted by access count. Where applicable users can view more paginated data using the "Next" button.
Many of the tables and graphs also support downloading their contents as CSV data to allow importing into other spreadsheets or graphing tools. The CSV button allows users to choose how many items they would like to limit the CSV download to.
Basic and advanced reports
Subscribers to any of our podcasting plans have access to these sections:
Access / Timeline graph - number of downloads plotted over the selected range. Hover cursor to show individual data points.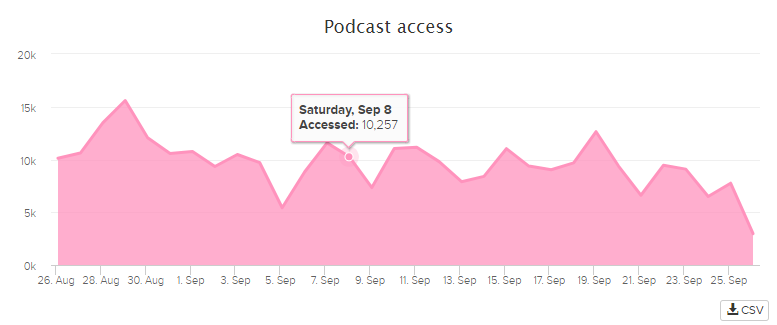 Publishing / Published episodes - lists all episodes published under a channel or provider over the period selected. See who published them and when. Includes drill-down support to inspect episode performance.
Access / Top channels - list of channels sorted by most downloads first and allows drill-down into channel specific reports.
Access / Top episodes - list of episodes sorted by most downloads first and allows drill-down into episode specific reports.
Access / Top ad campaigns - lists all ad campaigns run on your content during this time range, sorted by most ads delivered first. May be omitted if no ads were run on your content during this period.
Premium podcast reports
Allows access to extra reporting fields for providers, channels and episodes in addition to the basic reporting data.
Google Analytics / Listener play-through - shows what percentage of listeners (compared to the amount that started listening) listened past 10% of the file, 20%, 30% etc. until the end.
This information is derived from the subset of listeners that accesses episodes either through the iono.fm website or iono.fm embedded players.
We measure podcast listening drop-off in percentages instead of time to cater for the wide differences in audio length.
Drop-off rate data is obtained by firing an event every time a listener reaches a certain percentage in a podcast using our embed or web player.
We currently track on 10% increments, eg: 20%, 30%, etc. The two exceptions to this are when (a) playback starts (0%) and (b) playback finishes (100%).
Not all platforms allow us to accurately track events during playback, especially some mobile handsets, but the playback start and end events fire very reliably. Due to this discrepancy in available data for some charts the 100% value may exceed the 90% value - a logical discrepancy. We have decided to still display the middle values as it still provides some visual cues as to drop-off.

Google Analytics / Gender and Age - Gender and Age Group information is derived from the subset of listeners that accesses episodes either through the iono.fm website or iono.fm embedded players and furthermore have chosen not to block this information. As a result data is obtained from a subset of a subset and as such requires both a high enough amount of total downloads and a representative enough percentage of the total to have meaningful information.
This only includes plays from our modern players on modern web browsers, and excludes any listens from fallback players or access via RSS feeds using iTunes or other applications. Note this figure does not represent a 100% accurate amount and will always be lower than the actual, as various factors can cause listens even on modern browsers not to be tracked correctly, for example ad blockers, anonymizers, mobile networks.
The age and gender charts are fairly self-explanatory histograms that provides a breakdown of the user demographics:

Location / Top countries & Top cities - geo-reference data is produced against commercial versions of the MaxMind GeoIP datasets to show where content is accessed from. "In our recent tests, the databases were 99.8% accurate on a country level" - Maxmind support article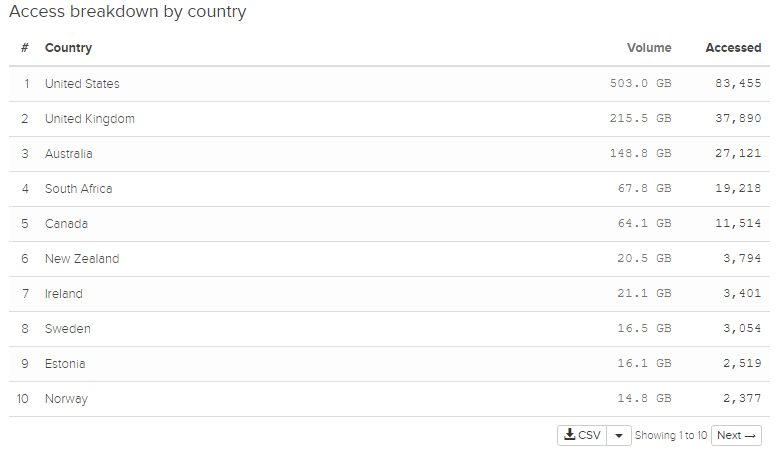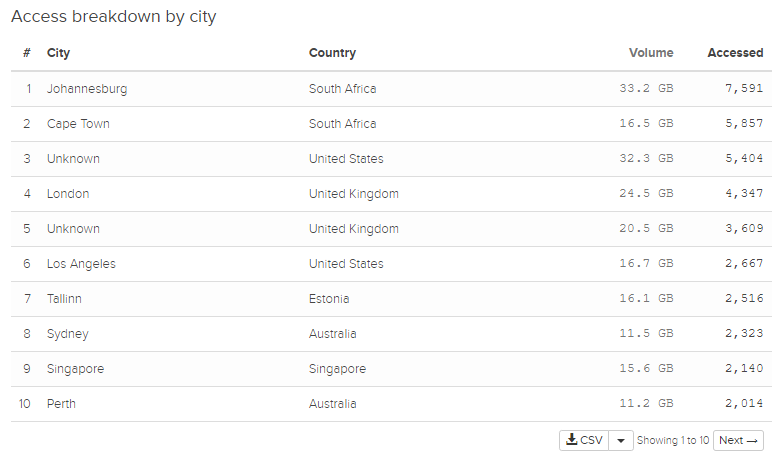 Behaviour / Peak listen times - plots which daily times received the most listens. Use hover to show hourly data points.

Technology / Devices - breakdown of what type of device was used to access the content.

Technology / Platform - breakdown of operating systems.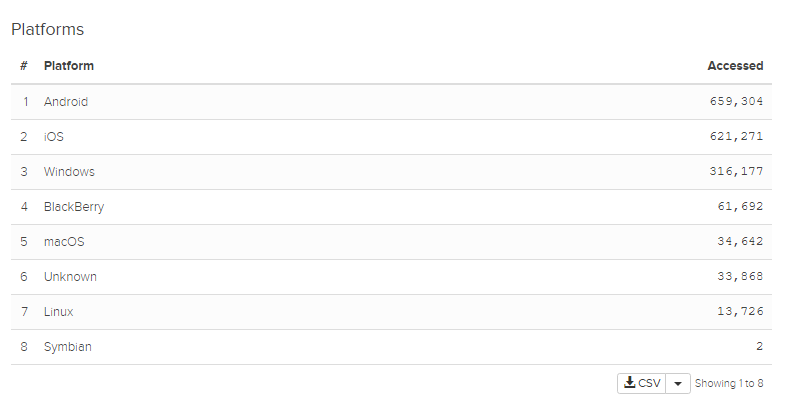 Behaviour / Access method- breakdown of where the content access originated. This can be via a browser visiting our website, embeds on another website, RSS feeds, or a recognised audio application like iTunes, Overcast or Podcast Addict. Hover over section to see exact number. Note that the recognised audio applications are listed in a separate table a little further down. Also note that fallback and legacy embedded players are on older or reduced functionality browsers that do not contribute to the Google Analytics mentioned above.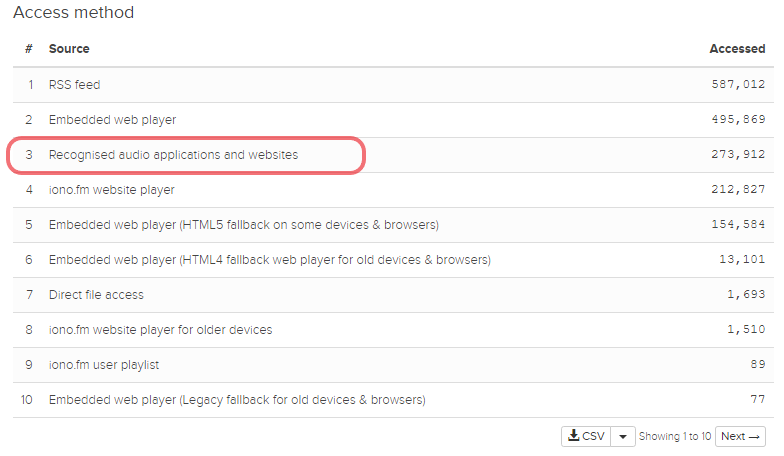 Technology / Browsers - breakdown of browsers used.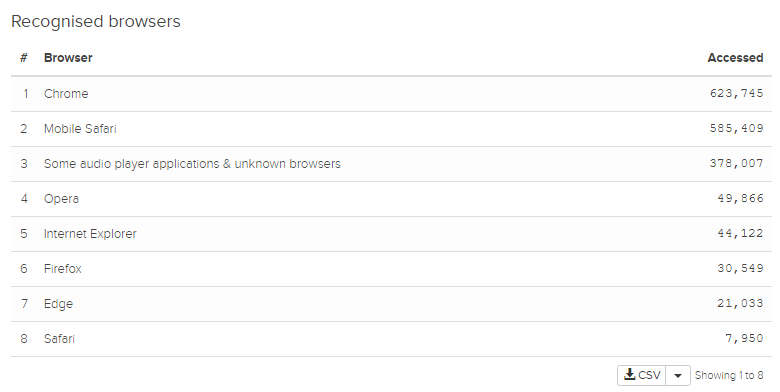 Technology / Applications - Breakdown of recognised player applications.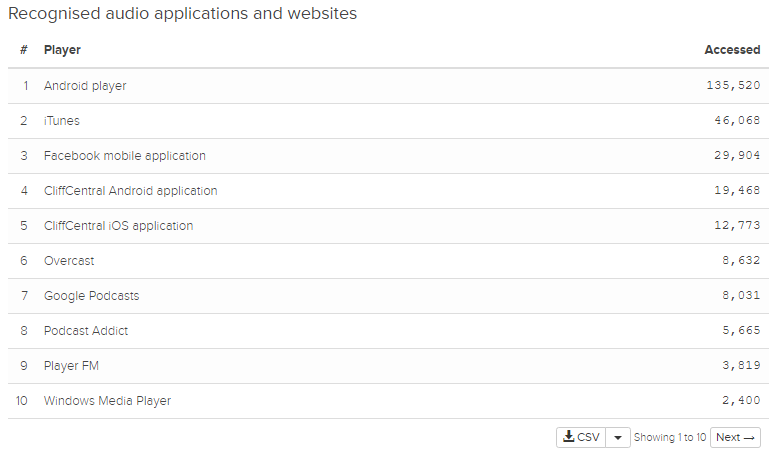 Audio / Quality and Format - A breakdown of most popular quality level and file format. Medium is default for RSS and embed players. MP4 is the default for RSS feeds and direct downloads. Our embedded player will auto-select the most appropriate format for the browser it is loaded in. See our article on audio quality levels.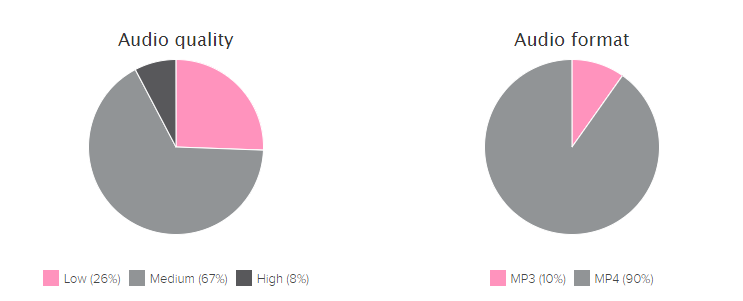 Live-stream reports
Live-streaming reports are very similar to the podcasting reports with a number of shared fields. Depending on the streaming package there are also a combination of basic and advanced report fields as already discussed above.
The report starts by showing the unique amount of connections (or listening sessions) over the report period as well as the stream reliability as a % value. As an example; an up-time of 99.5% over a week implies the stream was off for 7 minutes and 12 seconds.
Clicking on the up-time icon shows the amount of outages and down-time.

The concurrent listener graph shows the concurrent users over time, or more specifically, the highest amount of devices that were connected to the stream at the same time for the corresponding day or hour on the graph.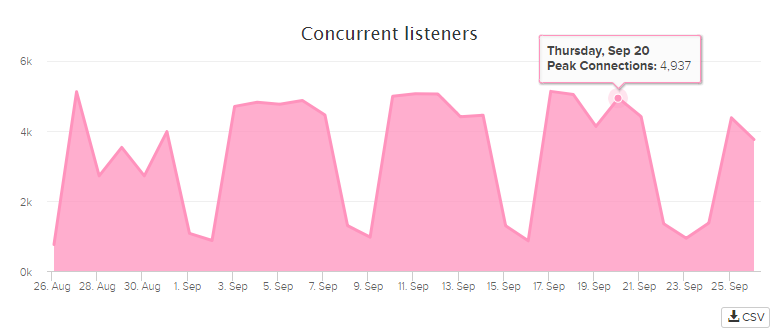 Concurrents versus sessions
Concurrents: The concurrent stream sessions graph at the top of the report shows the number of streams being delivered at the same time. This is a pretty accurate measure of how many active listeners you have at any given point in time.
Connections: Connections correspond to listening sessions and include filters to remove multiple requests due to short internet outages.
Unique users
Unfortunately we do not yet support tracking unique number of listeners. We do have plans to attempt support for this in the future, but have no target date yet.
Web tracking platforms like Google Analytics can track unique number of users relatively easy by using cookies in the browser. However, our podcasts and streams are frequently used by applications which do not support cookies at all, for example RSS players like iTunes, Overcast, Podcast Addict or any other third-party application outside browsers. For these we only have minimal information available around each request, not nearly enough to reliably identify any request as a unique user.
We do have some plans in place to get this information where cookies are available, and then provide other methods for tracking it in places where it is not, but will only make this available once we've achieved some measure of accuracy.
---