Share feedback
Thanks for sharing your feedback!
Large publishers have several employees involved with publishing and managing their podcast content and others involved indirectly in reporting and monetising. Our platform supports several user roles aligned to the various type of tasks performed.
What does roles apply to
A role can be added to the main provider account or on specific channels.
When a role is added to the provider account, it automatically receives this role for all channels published under the provider. When a role is added to a specific channel, the role only applies to that channel.
User roles
Our platform supports several user roles aligned to the various type of tasks performed:
Owner - each account can only have one owner. This is the primary contact person for the account and has complete rights to modify all users and content.
Admin - content administrators can modify channels and episodes, publish and manage episodes and draw reports.
Publish - these users can only publish and manage audio episodes. They cannot manage channel descriptions, nor draw any reports. Typically these are the producers of a specific show, responsible only for publishing it to our platform.
Report - these users cannot manage or modify any content, only generate reports. Sales managers for example, or other staff who track only performance and are not get involved with day-to-day content management aspects.
| | Edit provider settings | Manage channels | Manage episodes | Analytics reports |
| --- | --- | --- | --- | --- |
| Owner | ✓ | ✓ | ✓ | ✓ |
| Admin | ✓ | ✓ | ✓ | ✓ |
| Publish | - | - | ✓ | - |
| Report | - | - | - | ✓ |
How do I add or remove users to these roles ?
Users that are signed in with an Owner or Admin role can invite more users via the publishing dashboard on our site, where they can also remove existing users. Users are added by their email address: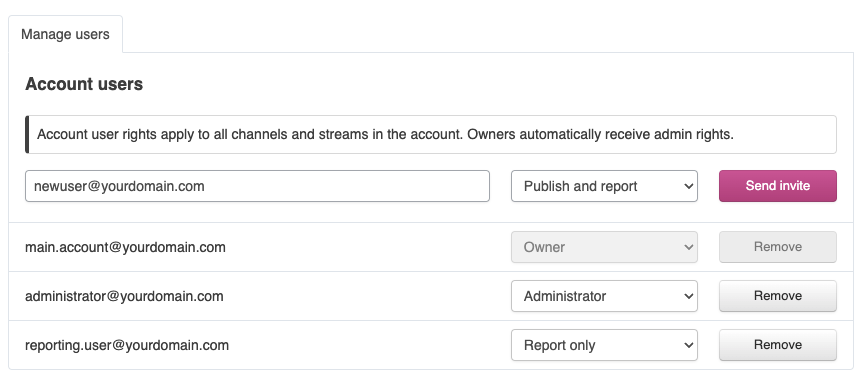 For email addresses that already have an iono.fm account, they will immediately receive access to this right.
When sending an invite to an email that does not yet have an iono.fm account, that person must first create a user account on iono.fm to accept the invite.
---
What's Next