Spotify allows podcasters to submit their channel RSS feeds for syndication to their users.

Important

Unlike iTunes and other syndication services some important notes apply to Spotify syndication when you list the feeds yourself:
Spotify will cache the episode files, and any downloads from Spotify will not reflect on our access analytics.
For the same reason, your downloads in Spotify will not be able to use our podcast ad-stitching to monetise these listeners.
iono.fm has an agreement to allow content published under our Spotify account to bypass caching on their side and these limitations. To be able to see Spotify downloads on our analytics reports and be able to monetise these listens with our advertising engine, please request that we submit the content under our account.
Request iono.fm to syndicate channel
Go to the channel page you wish to syndicate
Use the "Edit Channel" functionality, and go to the "Syndication" section.

Use the "Request Spotify submission" button.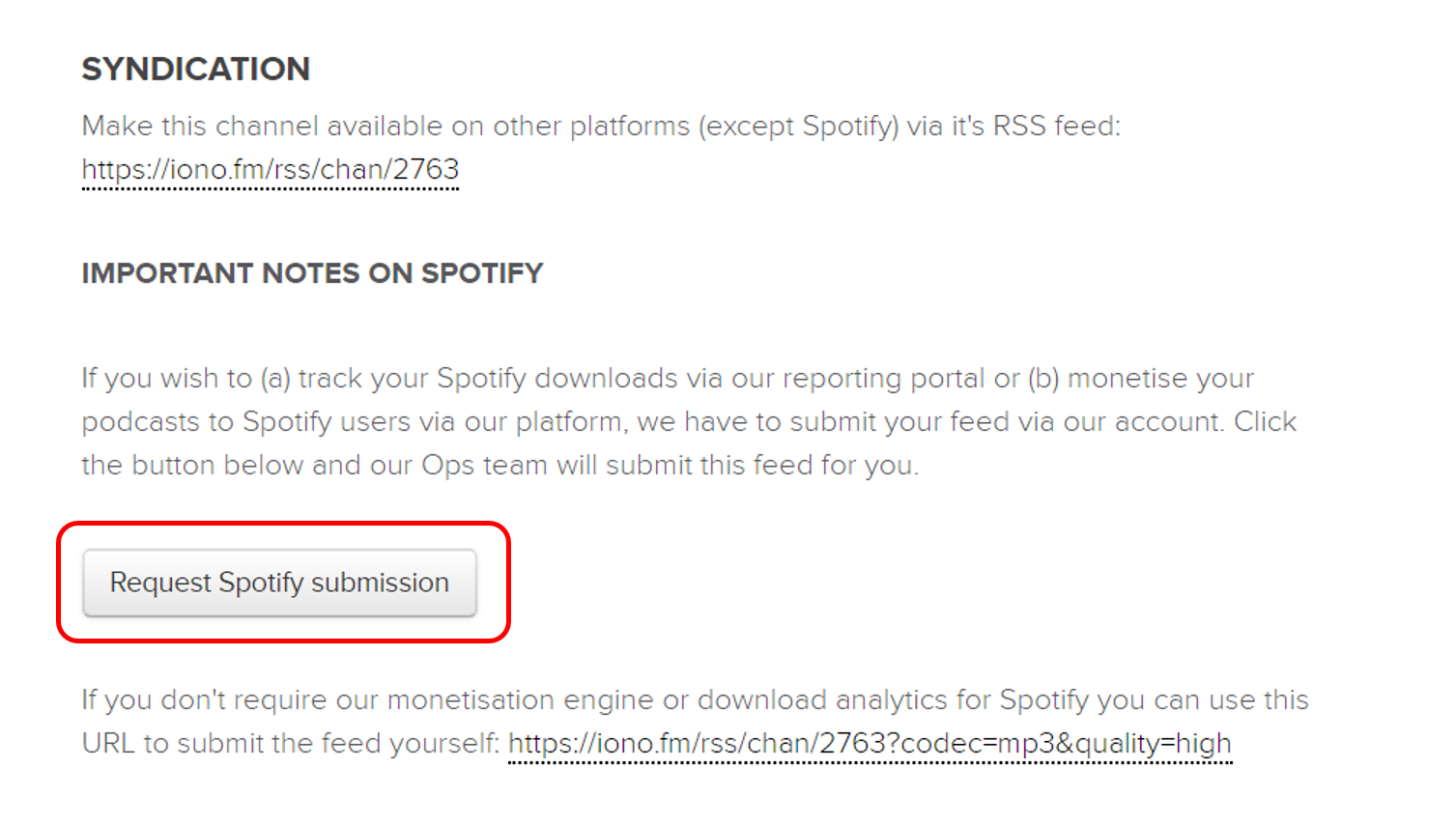 One you've clicked the button our operations team will submit the feed to our Spotify account.
You will get a notifications once your submission is completed.
How long will it take before my podcast is available on Spotify?
Submissions are performed during business hours SA time-zone and normally takes less than a business day, but in some case may take longer.
What if I want to submit myself?
You can submit the feed to your own account. Go to the same area in your admin area as detailed above and use the feed URL provided under "URL to submit the feed yourself".
Spotify terms
Spotify reserves the right to restrict advertising on their platform and may remove content if it contains certain types of adverts. See the following from their terms:
"However, Provider furthermore acknowledge that advertising and/or sponsorship messages containing pornographic content, or for firearms, ammunition, weapons, cigarettes, tobacco or e-cigarettes, or that relates to political or religious organisations or for any music streaming service, is not permitted. Spotify reserves the right to remove any Authorised Content that contains any such embedded advertising and/or sponsorship messages."
For the full and up-to-date terms please visit the Spotify website.
---
What's Next