Share feedback
Thanks for sharing your feedback!
Supported browsers
Desktop
Our live-streams are tested with the latest versions of Chrome, Firefox, Safari, Edge and Internet Explorer 11.
Internet Explorer 6 to 10 may work but is not officially supported.
Note: Internet Explorer 6 to 11 provides degraded quality. For a better experience please install Chrome.
Mobile
Opera Mini is not supported.
Some Android versions may have difficulty playing the streams in the pre-installed browser. We highly recommend installing the latest version of Chrome Android.
Stream quality levels
We offer our streams at different quality levels to cater for users with slow or expensive internet access. All streaming packages has low and medium quality available. Commercial streaming packages als has high quality. There's more information available on the radio station streaming page as well as the streaming product page.
The live-stream does not play
Our player tries it's best to "just work" but due to the huge range of browsers and platforms this is not always possible. Here are some steps you can try to resolve playback issues:
Check the above "Supported browsers" section to ensure your browser is supported. If not please install a supported one.
If you are on Windows: install this Media codec pack, restart and check if this resolves your issue.
If you are on Windows 10: please use the new Microsoft Edge browser.
If neither of these work try to listen with a dedicated media player like iTunes or VLC. See the "Listen with a media player application" section.
The live-stream plays but keeps skipping
Live-streaming depends on a whole chain of internet connections providing audio data at a sufficient rate. For users on mobile networks especially this rate may not always be attainable, leading to skipping or disconnecting of your audio stream. Some ways to resolve this:
Lower quality means less data has to be sent to keep the audio playing smoothly. Use our player to select the "Low" quality stream. See the "Stream quality levels" section for more details.
Listen with Safari on Mac/iOS or Edge on Windows 10+. These uses the HLS format which works better over bad network connections.
Listen with a dedicated application. You can also use a media player application to play the HLS format for a better experience. See the "Listen with a media player application" section.
Test your connection speed. If these don't resolve your issues please see the "Test your internet connection for streaming" section below.
Listen with a media player application
Users can open the direct stream URL's with some dedicated media player applications.
To find the stream URL's, click on the 'Support' button on the stream player. This will take you to a page that lists all the direct streams.
The first list of streams is in the HLS format and is ideal for using with iTunes, VLC or any other player that supports it.
To listen with iTunes:
If you don't have it, download and install iTunes from here.
Once iTunes is installed, go to it's "File" menu and choose "Open stream.."
Copy one of the stream URL's from the support page and paste it into this "Open stream" popup.
We suggest trying the Medium quality stream first. If that works but you desire better quality you can try the High quality link. If the Medium link works but keeps skipping please try the Low quality version.
To listen with SONOS:
If radio stations submit their feeds to TuneIn, they should be available automatically from your SONOS radio station list. If this does not work for you, you may have to manually enter the stream URL.
Remove any previous manual entries for the station, if any.
Create a new manual entry.
Select a URL from the second list on the stream support page and add it as a manual radio stream.
For more details see this support page.
Test your internet connection for streaming
To listen to our live streams requires sufficient bandwidth to our server farm in Europe. To test if your connection is good enough you can follow these steps:
Visit http://www.bandwidthplace.com in your browser.
Click on Server: Auto Select Server. Under Europe select "Frankfurt, DE"
The test should start automatically after selecting the server.
Wait until it completes and ensure that the "Download" value is more than 0.5 and the "Ping" value is less than 250 ms.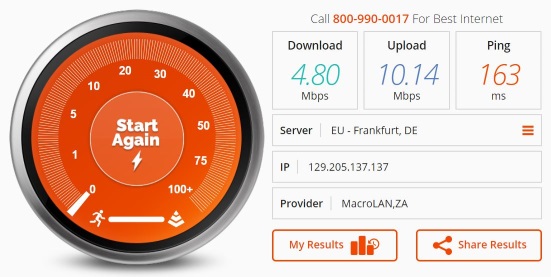 ---
What's Next