Share feedback
Thanks for sharing your feedback!
The billing portal provides a view of all products currently subscribed to, their component and usage levels. Users can also change or cancel existing subscriptions, manage optional components or request additional services.
This page provides a some examples of the sections that make up the billing portal page:
Summary
The first panel shows a high-level summary of all active product subscriptions and their monthly costs. Podcast subscribers on Radio+ packages can also increase their admin user limit from this area.
The default view of an account summary after creating a new publisher account:

Account summary for a publisher subscribed to all our products: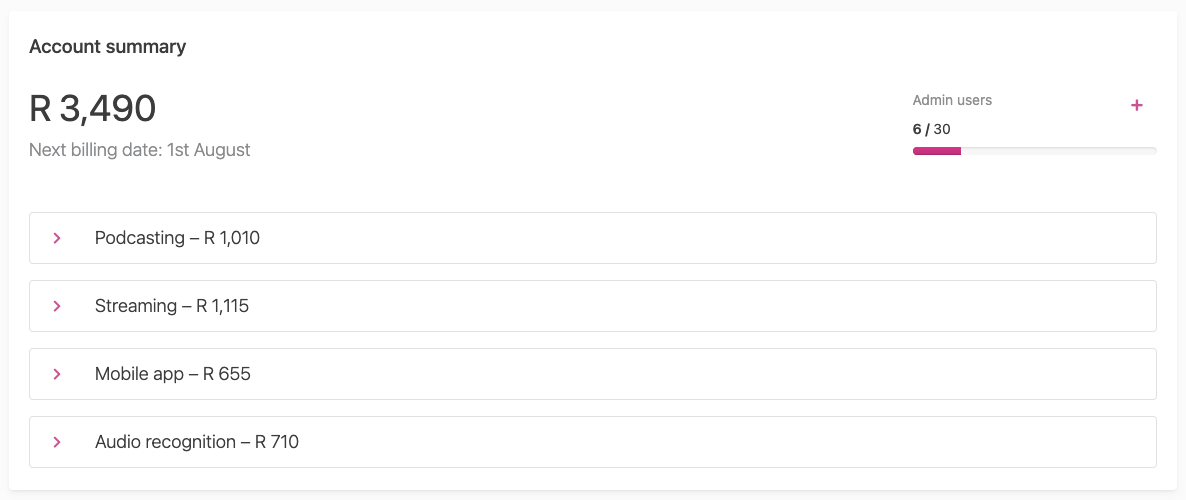 Podcasting
All new publisher accounts start with a "Free" podcast package enabled.
Default view of the podcasting panel after creating a new publisher account:

Podcasting panel for a customer on our highest package with multiple components enabled:

Use the "Change subscription" button to upgrade or downgrade the podcasting package or add additional components.
Radio streaming
New publisher accounts do not have a radio stream product enabled.
Use the "Request trial" button to get access to this product:

A publisher with a "Commercial" radio streaming subscription and multiple active components:

Mobile app
Mobile app trials can be requested from the portal:


Audio recognition
The audio recognition product is only available with an active radio streaming subscription:

Audio recognition does not have a trial period available, customers request access to the product:


Payment method
Customers on manual payment and not eligble for upgrade to card payment see a only a placeholder section:

Customers elible for conversion to card payments has an additional "Add Card" button available. Using this button triggers the upgrade to card payments:

Once a card has been loaded for an account, it's details is visible in this section:

Customer can use the "Change Card" button at anytime to switch to a different card or load a new one if the existing one has expired.
Billing details
The current billing details for invoicing the publisher account, including an optional email. All details can be updated here:

Danger zone
Functions that end access to the publisher account or removes it permanently.

The "Transfer account" functionality allows making another user profile on our platform the owner of the publisher account.

"Delete account" will permanently delete the publisher account and all it's active subscriptions, along with any stored podcast or stream archive content. A confirmation code may be sent to the account owner's email address as a safety feature.
---
What's Next